At the beginning of the month, American Honda Motor Co. reported strong August sales of 149,571 Honda and Acura vehicles combined. Honda trucks set a new August record of increasing 4.3% on sales of 76,140. Honda Division sales equaled 135,325 units, with Honda trucks setting an August record rising 4.5% on sales of 66,802.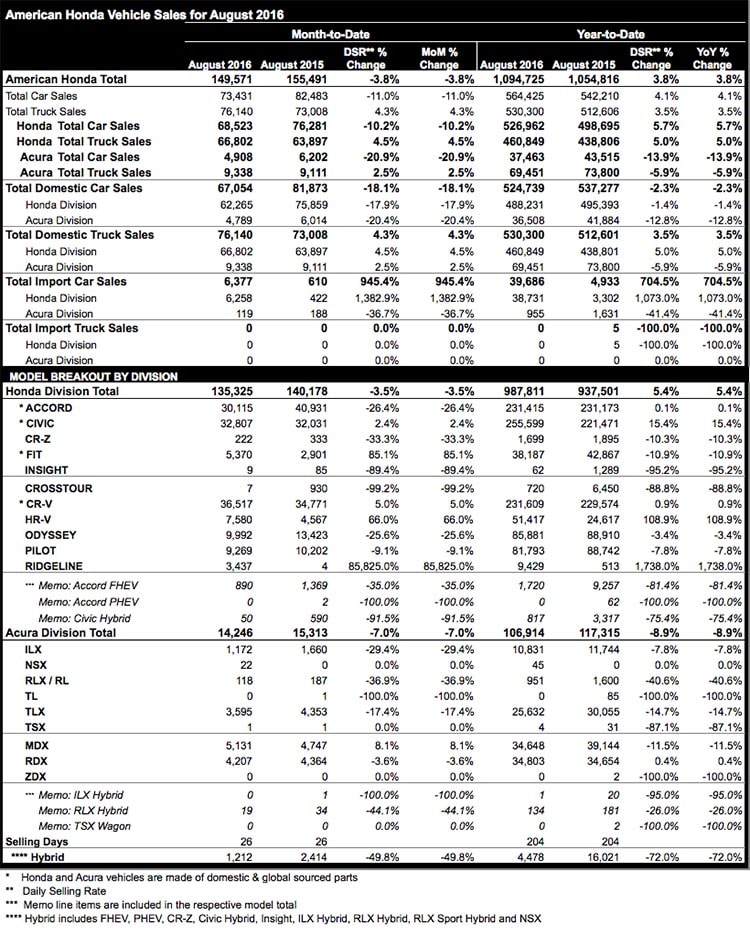 Without the benefit ogf 5 weekends in the month of August, Honda nearly matched the sales of last year. What the four week month, the CR-v continued setting records for the seoncod month straight. The Accord, Civic, and CR-V topped 30,00 units eacha nd Honda's compact HR-V and Fit reached major increases.
Honda trucks set a new August record, rising 4.5 percent with sales of 66,802 units
CR-V climbed 5 percent on sales of 36,517 for a 2nd consecutive all-time record
HR-V sales jumped 66 percent on sales of 7,580 vehicles
Civic and Fit were up 2.4 percent (32,807 sales) and 85.1 percent (5,370 sales)
"Our continued success with strong sales of both passenger cars and light trucks demonstrates once again that the key to great sales is great product," said Jeff Conrad, senior vice president and general manager of the Honda Division. "As we continue with our rapid cadence of new models, our focus will remain on selling vehicles one at a time to individual customers."